Relatives
Joker (Father), Harley Quinn (Mother), Aunt Sherry, Uncle Derek, and her cousins
Characteristics
Status
Origin
History
Lucy Quinzel is the daughter of Harley Quinn and the Joker. Getting pregnant sometime in her career as a Gotham criminal before the Joker's attack on Superman, Harley went into hiding for a year, not wanting the Joker to discover he was a father. Leaving the newborn baby Lucy with her sister, Harley returned to Gotham only to realize that not only did the Joker not realize she was pregnant, he didn't even care to notice she left at all.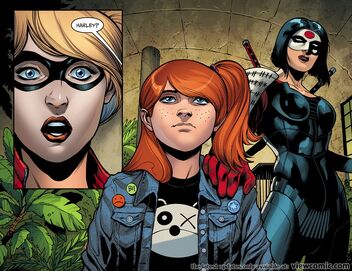 Personal
birthday = July 1st
hobby = putting tutu dresses on toy cars.
favorite food = unknown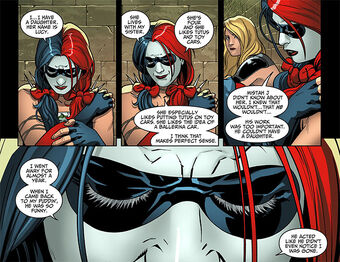 Powers and Abilities
Powers
None known.

Abilities
None known.

Strength level
Unknown.

Weaknesses
None known.

Paraphernalia
Equipment: None known.
Transportation: None known.
Weapons: None known.

Notes
Trivia
=={{{CustomSection1}}}== }} {{#if: |

=={{{CustomSection2}}}== }}
See Also
Discover and Discuss
Links and References
---